Vitamix E310 Explorian Series, Professional-Grade 48oz Container
Step up to better blending with high-performance Explorian Series, with exhilarating power and proven durability.
Vitamix Fuels Passions
That's why the brand is most trusted by professional chefs. But you won't just find Vitamix in restaurant kitchens. You'll also find Vitamix in home kitchens around the world. Because whether you're interested in the culinary arts, making healthier choices, or enjoying restaurant-quality smoothies at home – when you're ready to move on and move up, when you're ready to invest in your passion, you're ready for Vitamix.
If you're looking for a Top Performance Blender that will not fail you, keep making smoothies and food preparation for yourself and family, look no further.
Built to last:
A bargain blender's not a bargain if it doesn't last. We know purchasing a Vitamix blender is an investment. But Vitamix blenders are built to last, helping you buy dependable, not disposable.
Easy to clean:
Just blend warm water and a drop of dish soap at your machine's highest speed, and watch it self-clean in 60 seconds or less – no disassembly required.
The difference is in the blend:
Since the number-one reason people purchase a blender is to make smoothies, it's important to get them right. Whether you prefer an icy blend or a perfectly smooth puree, nutrition-packed with veggies or a light, fruity treat, Vitamix smoothies give you a delicious, even blend in every Sip.
Power:
We don't aim to have the highest horsepower. You don't need more Horses; you need trained ones. The focused power of our complete blending system causes every component of the Vitamix machine to work together, creating faster, smoother blends packed with flavor.
The universal tool:
Make smoothies & juices, hot soups, flours & dough, nut butter, frozen desserts, batters, dressings & sauces, non-dairy milks, and more.

I finally did it! I got a Vitamix. This is everything I've been told and more. So far I've made smoothies from RAW veggies and fruit (including carrots/apples/celery/ginger/spinach/kale/frozen berries/avocados), HOT soup (takes about 5-10min) from steamed potatoes and sautéed onions or steamed veggies (super smooth or chunky), vegan/gluten free CREPE batter (which is more runny than say pancake batter)… And all of it has been delicious and FAST! I am impressed with how well fruits and vegetables are blended for my daily smoothies with just a cup or so of coconut water or coconut milk. I get all the fiber and complete nutrition of everything I include WITHOUT any 'chewing' while drinking them. I didn't realize it was so easy to clean either – you just add water (half full) and a drop or more of dish liquid and run it for 30 sec – then rinse… Done. It has been a wonderful ally in my fitness goals and hugely beneficial to me as a vegan. This size is also perfect for me for daily smoothies or single servings of whatever I make, but also if I would like to make a few servings of soup or drinks and freeze or refrigerate for later. Can't believe I waited so long to get this LOL. Honestly, it's a game changer. This is one powerful machine.
Replaced 5200 Perfectly Used the TNC 5200 w/ 48oz container for 7 years (great warranty service). Twice a day (wife too). Greens, berries, nuts, sunflower and pumpkin seeds, banana with skin every day. Healthiest thing I've ever done. 67 years old – doctor says no advice – just keep doing whatever I'm doing. Gave the 5200 to my daughter in law to try to improve their diet and bought E310. Like the controls better and the smoothies are smoother, even blackberry seeds – tho that is probably due to new sharp blades? Love it! Great deal!

Finally you're looking to get a Vitamix machine and ready to start
Vitamix works by allowing users to manually control blending speeds, up to a whopping 2 horsepower, to give users the freedom to mix just about anything: cold cocktails, chip dips, cake batter, soups of all kinds… if it blends, the Vitamix can make it. Furthermore, Vitamix can make something hot in a matter of minutes. Vitamix has been around since 1921.
What Can A Vitamix Blender Do?
Vitamix is the amazing blender you'll be able to prepare a vast variety of healthy meals and drinks. Bear in mind that the machine can be used for preparing different kinds of smoothies, dips, as well as creamy desserts, juices and frozen drinks. Actually, it will take you a couple of minutes to prepare healthy meals and drinks with the machine.

Why Choose Vitamix?

Performs more than 50 kitchen tasks easier and faster. Whether you want to simply feed your family more nutritious meals or elevate your expertise and creativity in the kitchen.
From breakfast to dinner, from appertisers to desserts, it will become one of the most indispensible kitchen tools you have ever owned. With a Vitamix, you'll soon be experiencing a whole new world of nutrition, flavour and creativity.
The Vitamix is so much more than a blender. The Vitamix is an amazingly versatile machine that can actually help you and your family lead a healthier life. What's more, it breaks down whole foods into tiny pieces so you can absorb more of the foods nutrients into your body – or hide those healthy greens from the kids!
Juicing – make fresh fruit and vegetable juices and retain all that fibre and nutrition.
Cooking – cook steaming hot soup, sauces, gravies and fondues in 4-6 minutes, all without a stove.
Freezing – when you're ready for dessert, create homemade ice cream and fresh fruit sorbets in 30 seconds.
Blend – whether it's a tangy salad dressing or mayonnaise, a fresh fruit smoothie or all natural baby food – the Vitamix will blend for a consistent result everytime.
Chopping – coarse or fine, simply adjust the variable speed dial to grate cheese, chop onions and carrots or create healthy chunky salsas or smooth creamy dips in a flash.
Grinding grains and kneading dough – capture the nutrients from whole grains when you grind wheat, rice, coffee, spices, almond or soy with the Vitamix. The Dry Food Jug, an optional accessory, is best suited to this task.
Cleaning – takes a mere 15 seconds to clean!
Specifications
The machine has stainless steel blades each 3 inches in diameter.
Color: Black motor base
Powerful 2-peak horsepower motor that allows the machine to spin blades with the speed of 37,000 revolutions per minute.
Built to last, it is equipped with a thermal protection system cooling fan and thermal protection system.
Variable speed control
Features a unique variable speed control that adjusts motor speed, delivering consistent processing at any level.
Facilitates four processes no other single appliance can handle: making whole food juice, cooking soup, making ice cream and grinding grain.
BPA Free Shatterproof container 1.4L
Made from Eastman Tritan™ copolyester, the design creates a powerful vortex in the container, forcing ingredients up from the blades and back down to the centre, guaranteeing thorough processing.
Stainless steel blades
Vitamix Hammer Mill blades work to completely pulverize whole foods quickly and efficiently.
Heavy-duty, wear-resistant base
The base of this product is virtually indestructible. It won't become brittle or discolored and is made from fire retardant ABS plastic and thermal set polyester.
Unique tamper tool for extreme processing power
The unique tamper tool pushes food into the blades without fear of jamming them or damaging the tamper.
Perfect for processing peanut butter and ice cream, this feature helps you handle ingredients that would bring other blenders to a halt.
What's Included In The Box
The machine comes with the following: motor base, classic 48-ounce container, tamper tool, recipe book.
Voltage: 220V, 50Hz/60Hz, 11.5 Amps.
Product Weight: 4.95kg
1.4L container in place
Rated Usage: Up to 30 mins continuously
Warranty: 7 years
Color: Black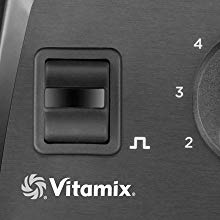 Using the dial you'll be able to control machine's speed. Obviously, such a great feature as variable speed control makes it easy for you to choose the optimal blending speed for meal preparation process. Selecting the right speed will help you achieve the desired meal's texture.
What is the optimal blending speed? It's recommended to turn on low blending speed at the beginning. Afterwards, you need to choose higher blending speed. When selecting higher speeds it's crucial for you to ensure that the machine continues to blend the ingredients successfully.

Made from Eastman Tritan™ Copolyester Container
Contact Ms Jenny Lim hp: (65) 81823325 for FREE local delivery
Happy Customers Reviews
– Most customers are impress with blender's power. They say that Vitamix is a very powerful blender that does great job.
– Easy to use machine.
– Love the simple design. The machine has matched their kitchen perfectly.
– Customers loves the machine that allow them to make great smoothies easily and quickly every day.
– Some consumers find the machine expensive. However, it's worth spending the money.
– Many customers agree that Vitamix is the best choice blender they ever had and the best thing that they owned.
– Most say that the machine is the perfect gift.